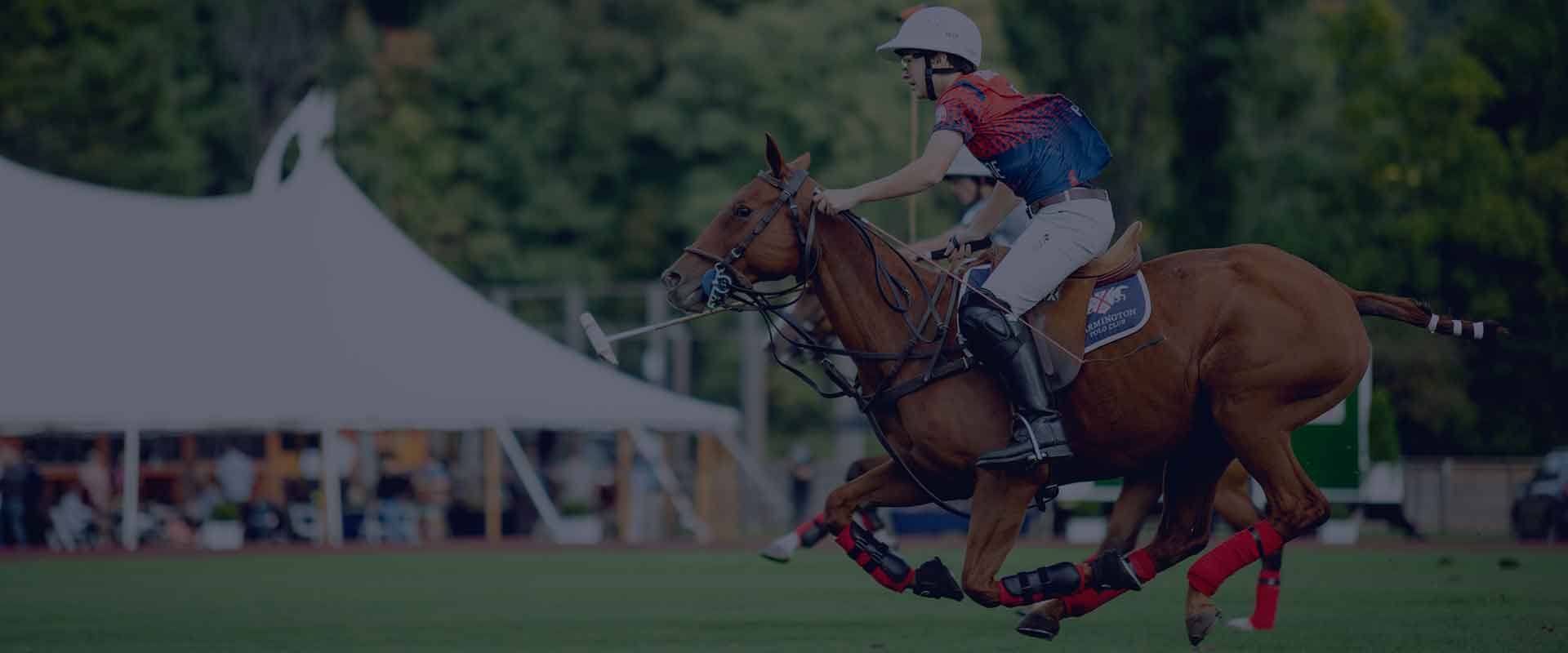 Farmington Polo Club is looking forward to welcoming back spectators to the grounds for our 2021 polo season! In light of the ongoing COVID-19 pandemic, we ask that our guests continue to exercise caution and use good judgment when interacting with one another at FPC.
We ask that you do NOT come to FPC if you:
Are exhibiting any symptoms of the coronavirus
Have been in contact with someone with COVID-19 in the last 14 days.
Are a vulnerable individual who is elderly and/or an individual with serious underlying health conditions.
Every Saturday Jun. 5 - Sept. 25
Access our VIP tent and reserve a table, private party or tailgate spot online! General Admission and Individual VIP Admission tickets can be purchased online in advance or in-person at the gate on the day of the match.
Farmington Polo Club Saturday Matches
Matches are held every Saturday from June - September.
Gates open at 3pm from June - August and at 2pm in September.
Matches begin at 5pm (4pm September) and run for ~2.5 hours.
General Admission and Individual VIP Admission tickets can be purchased online in advance or in-person at the gate on the day of the match.
If purchasing one of the following VIP packages, please note that outside food and beverage is not permitted under the VIP tent: Platinum Pony, Purebred Partier, Bubbly Broncos, 4 Top Table.
Food and drink is available for purchase from our concession trailers and mobile bars on the grounds. Visit our Food & Beverage page to explore our menus and learn about catering options offered by The Farmington Club.
General Admission tailgate parking or picnic area locations are assigned upon entry on the day of the match. Mid-field and VIP tailgate spots / tents can be purchased and reserved online in advance of the event.
Admission is free for children ages 12 and under. We ask that you please reflect the number of children that will be in attendance using the Child VIP Tent Admission or Child General Admission ticket options so that we may get an accurate projection of the party size.
More information and attendance / spectator FAQs are available on our Attend page.
Ticket Policy
The following policies cover ONLY the General Admission and Individual VIP Admission tickets sold online.
VIP tables and tailgate packages are available for purchase online until 5pm on the Thursday before the match. Contact Farmington Polo Club directly to make reservations after this time.
General Admission tickets, VIP Tent Admission tickets, and Reserved Mid-Field Tailgate spots can be purchased online until 5pm or at the gate on the day of the match (pending availability).
Tickets are refundable up to 30 days prior to the date of the Polo match. Tickets for games in the next 30 days are not refundable.
Match times, dates, and teams are always subject to change. Tickets are not subject to any refund or exchange and shall bear no cash value. A change in the event schedule (including time, date, tournament or weather) under any circumstance does not entitle ticket purchasers to a refund or exchange.
Only if a match does not take place, solely at the discretion of FPC management, will a ticket for that match be eligible for exchange. The ticket will be eligible for an exchange for another match within 12 months of the originally scheduled event, subject to availability.
In the event of a cancelation, FPC will issue a public announcement via our website and social media platforms as soon as the decision is made. If no announcement has been made otherwise, the match is currently ON.
Platinum Pony and Purebred Partier packages purchased within 5 business days of the event are not eligible for the catering selection and will instead be provided a credit towards our VIP à la carte or food truck menus.
Platinum Pony packages purchased within 48 hours of the event are not guaranteed the display of a company logo or personal celebration message on the Jumbotron.
Please contact Farmington Polo Club directly with any questions regarding the policies for other single match or full season VIP experiences purchased online.